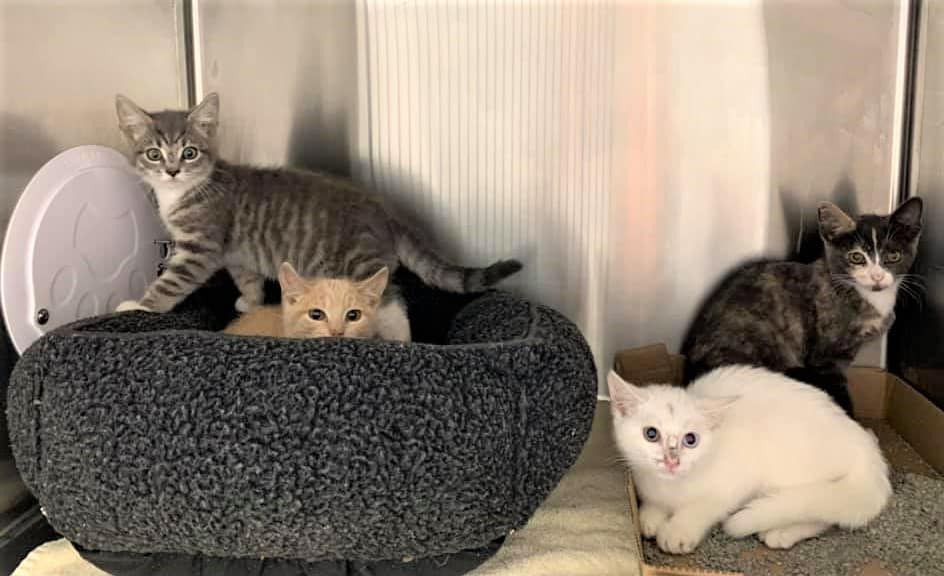 What is kitten season?
Well, simply put, it's the time of year when litters of kittens are born. But there's nothing all that simple about it! The VAO's Feline Care Manager, Bill Romaine, has this to say about kitten season: "We are in the midst of what could be the biggest kitten season that I've ever seen. We are being hit with a double whammy this year. First, it was an extremely mild winter, which means our feline friends were able to keep extra busy this year! Second, thanks to COVID, the numbers have increased significantly as well."
Wait, what does COVID have to do with kitten season?
"COVID has all but stopped local TNR (Trap, Neuter, Release) activity. Since the adult cats are not betting altered, they continue to breed, and breed, and breed."
The VAO is in the throes of kitten season, and currently has well over 200 felines in its care.  Thanks to the VAO's amazing feline fosters, most kittens 8 weeks and younger, and their mamas, are able to stay away from the stress and noise of the shelter.
How can you help with kitten season?
"There are many ways you can help!" says Romaine. "First and foremost, we are always looking for foster families that are willing to take in young kittens. If you have ever considered being a feline foster, NOW is the time!"
"Second, you can donate much needed supplies!" The VAO is going through record amounts of cat litter, and that is definitely something that we don't want to run out of! "Our little kittens prefer paper litter, and our adult cats use non-clumping litter, but we will happily accept ANY type of litter" says Bill.  The shelter also needs KMR (Kitten Milk Replacer) and kitten food.  We would really appreciate donations of "Mother and Babycat" food by Royal Canin.  It ensures that both mama and baby are receiving the best nutrition during those crucial first few formative months.
How else can you help with kitten season?
ADOPT!! The shelters are overflowing, and the best thing for these little ones are to spend as little amount of time in the shelter as possible. And if you are in for one kitten, how about adopting a pair? Kittens LOVE to grow up with another feline sibling to love, and then they will always have someone to play with! For a limited time, you can adopt two kittens at a special adoption fee of $225. That fee includes spay/neuter surgery., micro-chipping and all age appropriate vaccinations.  There has never been a better time to adopt!!
THANK YOU to everyone who is able to help us in any way as we meet kitten season head on!
For more details on the types of items needed for our felines, please visit our Amazon Wish List
To see all of the felines that are currently available for adoption, please visit our website: www.vaonj.org/adopt/cats/
To learn more about becoming a foster, check out our website here:  www.vaonj.org/support/foster/