Adopting a pet requires a commitment of time, attention, and finances. We'll do everything we can to help you find your new best friend, but ask that you carefully consider all of these before making an application.
Experience has shown us that good relationships lead to successful adoptions. Communication, education, and support all work together to create connections that last. Our goal is to make a lifetime match between you and your new pet!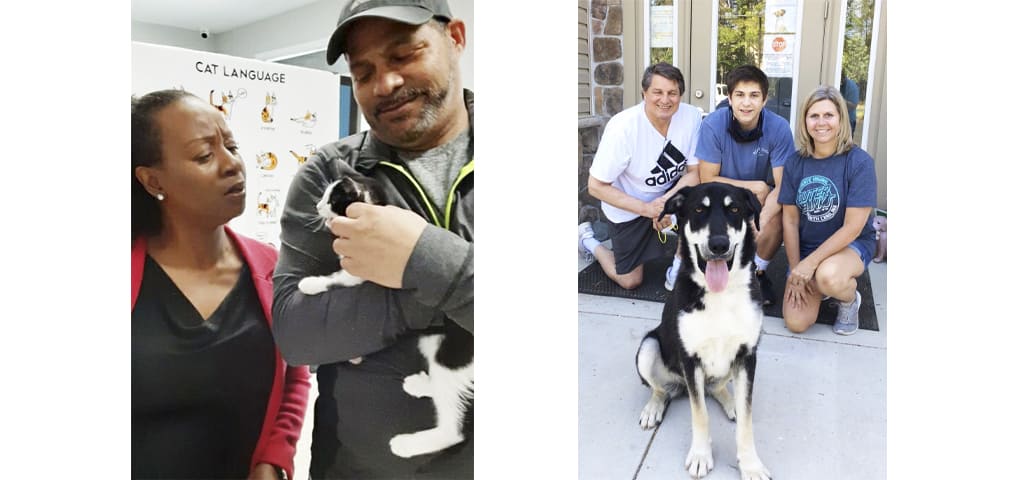 Here's how adoptions work at VAO
Look for Adoptable Animals: Visiting the shelter is the very best way to see if any of our awesome animals are right for you. A visit is also a good time to talk to one of our staff members about what kind of pet you're looking for. You can also see who's available and learn general details about animals right here on our website.   Adoptable Dogs  |  Adoptable Cats
Complete an Application: You can fill out the application online in addition to filling one out at the shelter. There is a $5.00 application fee to help cover the cost of care for our furry friends. Our adoption application helps us learn about your lifestyle, so we can match you with the perfect pet.  Please keep in mind applications for a given animal are not approved on a first-come-first-serve basis.  Our goal is to choose the application that is the best fit for that animal.  If your application is not chosen for the particular animal it was submitted for, it can be held for 60 days and transferred for another animal you may be interested in.
Attend a Meet & Greet: If necessary, we'll ask to arrange a "meet" with any pets you currently own, or any family members that haven't met your potential new pet. We want to make sure everyone gets along!
The Adoption Agreement: Once your application is approved we'll walk you through the contents of the adoption agreement. After signing it, you'll be given a copy, along with documentation of your pet's known vaccination and  medical history. You'll need this to take good care of your pet! Sample Adoption Agreement (PDF).
Take your new best friend home!
After Adoption
Post Adoption Checkup: Part of our adoption agreement includes taking your new family member to the vet within 7 days of your adoption for a check-up – don't forget!
Follow-Up Calls: We'll call you a couple of times in the first few months to see if you have any questions, and to make sure you and your new pet are settling in nicely.
Don't Forget: We know that some matches don't work out, no matter how carefully we work together beforehand. Remember, you can contact us at any time with questions or concerns, large or small. We're here for you and your pet!
Note: All of our animals are spayed/neutered, vaccinated, microchipped, and ready to go home!