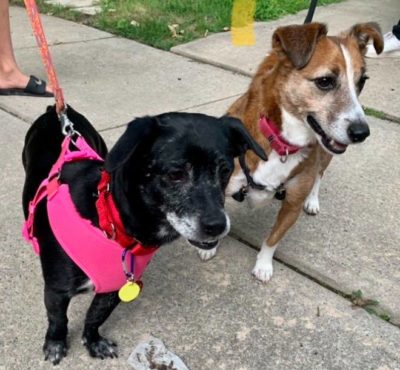 There are so many stories about people returning the animals that they adopted during the COVID-19 pandemic. They claim that since they are going to be in the office all day they won't have time for the animal, or it wouldn't be fair to the animal to be left alone all day. Well, we would like present a better solution to this so-called dilemma. The Raetsch family of Haddon Heights recently added a second dog to their pack. Shannon Raetsch explains why:
"I have a very active family. When the pandemic hit, we suddenly had nowhere to go. We started thinking about getting a dog just as a reason to get outside every day. Indiana came into our lives in May 2020. He was perfect for us. He needed a lot of love and attention and we had plenty of both to give him. He really helped us get through the past year.
But now, as the kids will be returning full time to school and activities, and the adults will be returning to our offices, we had a problem. What to do with Indiana? He follows us around all day long. He is never alone and never wants to be. He is a member of our family and we can't just ignore his needs. So, we did the only thing we could do in this situation. We got him a friend.
I never stopped following the VAO on Facebook and often try to donate supplies to them. A post about Seashell popped up one afternoon and she immediately stole my heart with her floppy bat ears and tiny overbite. Within two days, we had a meet and greet. The handler was phenomenal. He talked us through behavior issues and how to make sure the dogs would be good long-term friends. He really took the time to ensure it would be a good fit both for the dogs and the humans. Seashell was renamed Shuri and we took her home that day. Indiana is now much more willing to be left alone if he has Shuri by his side. There really is no difference between having one dog or two other than the amount of food you need to buy. They love to play together. They both race to the door to greet us and are learning to share toys. It really has been a win/win situation for everyone involved. Except for the cats (also adopted from VAO years ago), who continue to look upon the dogs with disgust and disdain."
We couldn't agree with you more Shannon! There is no better time to find a new furry family member.  You can see all our cats & dogs that are currently available for adoption on our website: www.vaonj.org. Better yet, stop by the shelter at 419 Cooper Rd in Voorhees, right next to the fire house.